EXPERIENCES:
I am an engineering backgrounded marketing @ Winbond electronics. I am looking for any possible cooperation opportunity with you if you need NOR flash / NAND flash / DRAM memory.
ABOUT Winbond Electronics Corp.:
Winbond Electronics Corp. is a Specialty Memory IC Company engaged in design, manufacturing and sales services. From product design, research and development, wafer fabrication to marketing of brand name product, Winbond endeavors to provide its global clientele top quality of low to medium density memory solutions.
The Company was established in September 1987 and listed on Taiwan Stock Exchange in 1995 with headquarters in the Central Taiwan Science Park, Taichung, Taiwan.
Winbond has three core business groups - DRAM Product, Flash Memory IC, and Memory IC Manufacturing. It continuously seeks product and technological innovation to gain a competitive edge. Winbond's major product lines include Code Storage Flash Memory, Specialty DRAM and Mobile DRAM. Our advantage of technological autonomy and prudent capacity strategy enables us to build a highly flexible production system to produce the synergy of product mix, and meet customer demands while building the brand image.
In the area of Code Storage Flash Memory products, we focus on the "low to medium density" market by offering a full range of products of Serial and Parallel Flash. Our small-size flash memory packages offer the features of low pin count, small size and low cost. With considerable market share in computer peripheral markets, we also develop mobile device and consumer electronic related fields.
Winbond specializes in the design of high-performance, low-power memory, and riding on the strength of having a 12-inch fab, offers a whole series of Mobile DRAM and Specialty DRAM products that target top-tier clientele and quality-oriented applications. Winbond's products are used extensively in handheld devices, consumer electronics and computer peripherals. We also focus on high entry barrier, high-quality applications, such as KGD, automobile and industrial electronics.
To provide clientele around the world with prompt services, Winbond has set up bases in the USA, Japan, China, Hong Kong and Israel and built up distributor networks in different countries to expand our sales network. In the aspect of quality, Winbond implements rigorous process control and quality control, strengthens yield analysis and supply chain to achieve customer satisfaction. The long-standing efforts in quality assurance have earned the Company a good reputation and resulted in the accreditation of ISO 9001, TS 16949, QC 080000, ISO 1 4001 and OHSAS 18001.
In the future, Winbond will continue to provide customer-oriented services and concentrate our resources in markets in which the Company has a competitive edge. At the same time, riding on the strength of our advanced semiconductor design and manufacturing knowhow, observing the core values of "accountability, innovation and synergy" and incorporating the corporate spirit of "execution, innovation and passion" in all operational activities, Winbond will strive towards the goal of becoming a world-class solution provider.
PRODUCTS:
Mobile DRAM-
Pseudo SDR SDRAM

Low Power SDRAM

Low Power DDR SDRAM


Low Power DDR2 SDRAM
Specialty DRAM-
SDRAM

DDR SDRAM

DDR2 SDRAM

DDR3 SDRAM

KGD
Code Storage Flash Memory
Serial NOR Flash

Parallel NOR Flash

Serial NAND Flash

SLC NAND Flash

KGD

TrustME Secure Flash

APPLICATIONS:

Automotive-
Advanced Driver Assistance Systems (ADAS)

Instrument Clusters

Infotainment
Industrial-
Human Machine Interface (HMI)

Programmable Logic Controller(PLC)

Smart Meter

Industrial Networking

Point of Sales(POS)
Mobile/ Networking-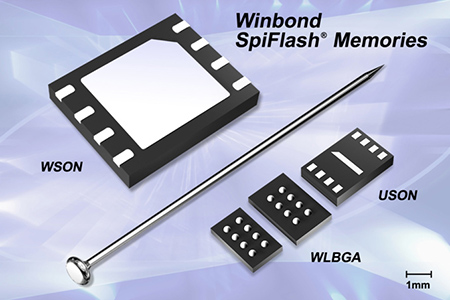 Smart Phone

Wearable Device

Passive Optical Network

Digital Subscriber Line ( xDSL)

Network Switch / HUB

Wireless Access Point (WAP)

Cable Modem

Power-Line Communication (PLC)
Computing-
PC(NB/DT/AIO)

Cloud Computing ( Server/ Data/ Data Center)
Consumer-
IoT-
Wearable Device

Smart Home